Top 10 Windows 7 Features #4: A worthwhile Windows Explorer
Sent to you by Rehan via Google Reader:
via
Betanews
by Scott M. Fulton, III on 5/19/09
By Scott M. Fulton, III, Betanews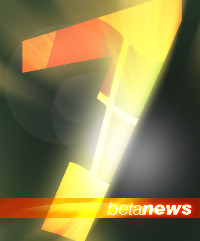 Over the last few decades of Windows' existence, Microsoft has wrestled with the problem of how much control it should give users over the arrangement and organization of files on their computers. In a perfect world, users shouldn't have to care about their \Windows\System32 or \Windows\SysWOW64 directories, so a good file manager shouldn't make the mistake of exposing users to information they don't know how to deal with. On the other hand, knowledgeable users will need to have access to system directories in such a way that they don't have to jump through hoops to find them.
It is a balancing act, but not an impossible one. Over the years, third-party file management utilities such as Total Commander and xPlorer2 have been among the most popular software downloaded through Betanews Fileforum. Granted, these are typically installed and used by folks who know such bits of trivia as the fact that the \Application Data\Local Settings\Microsoft\Office folder in Windows XP maps to the \AppData\Local\Microsoft\Office folder in Windows Vista. But the reason they're popular with folks such as myself is because we need more direct and comprehensive access to the systems we manage. What's more, we commonly need access to two directories at once, and it makes more visual sense to have them both open.
Almost dual-pane While the updated Windows Explorer in Windows 7 is not in itself a dual-pane file manager, the surprise is that it does not need to be. With the company's designers having implemented a snap-to feature called Aero Snap -- born out of the company's more intensive experiments with multitouch -- two open Explorer windows can very rapidly become as functional as a side-by-side, dual-pane file manager.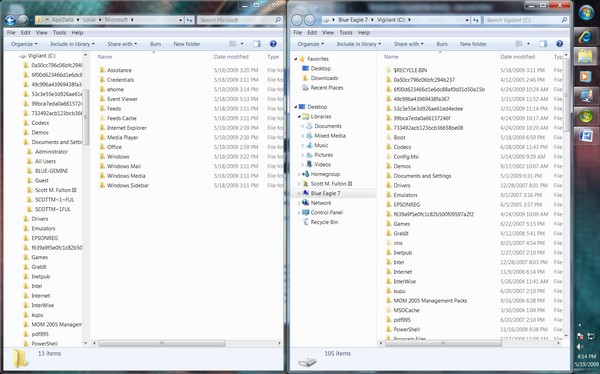 You open the first pane the usual way -- for instance, by selecting Computer from the Start Menu. Then drag that new window by its title bar over to the left side. (By the way, contrary to what we've been told and what we've read, the behavior we're actually seeing in Win7 is that you cannot drag a window by its title bar past the screen border.) By default now, there is a folder tree along the left side of each pane; you don't have to pull it up manually as you did with XP, and you don't have to pull up folders from a hidden frame as you sometimes did with Vista. So you open up a second Explorer window by right-clicking on the destination directory in the folder list, and from the popup, selecting Open in new window. Drag that to the right and release, and the second pane semi-maximizes to fill the space.
Libraries For most production environments, business documents have a variety of home locations. Though you might think it's nice to have a "My Documents" directory, a single locale for wrapping all manners of media together in one tidy folder, when you manage any kind of enterprise whose business is the production of content, in practice, it becomes tenuous at best, untenable at worst. What's more, the business has its own documents, you have your own personal documents…and then you have your very personal documents. Relying on the Windows file system to keep those locales appropriately segregated and yet associated with one another, is not a productive use of one's time.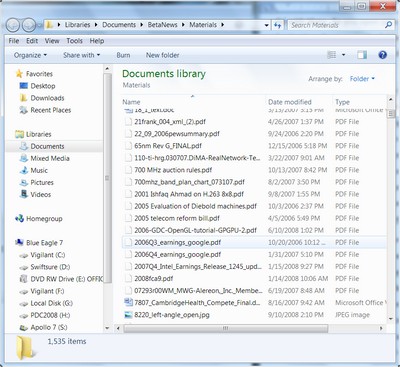 Windows 7 (and Windows Server 2008 R2) address this dilemma in a new and, at least from my point of view, hopeful way, through the use of libraries. We introduced you to libraries in our article on Homegroup networking. Essentially, a library is an aggregate collection of all the subfolders belonging to a set of one or more member folders. So you can collect documents (not videos, not pictures, not CD images, but the stuff you can print) together from multiple locations throughout your network or your Homegroup, in a centralized repository called Documents. That way, you can go ahead and keep those documents stored in multiple locations as necessary; the library collects their subfolders together into a single view without coalescing them into a single folder or locale.
While this changes things for Explorer, it can make things confusing for other programs, especially with regard to saving files. If you'll recall, Windows Explorer also provides the Open, Save, and Save As dialog boxes for applications such as Word and Excel. There are two ways of viewing libraries with respect to other folders, and their differences are esoteric but important: By default, Libraries are stationed along the left pane in a batch by themselves (in these screenshots, you'll see a library I've created called "Mixed Media," which is not one of Windows 7's default libraries). There, Documents looks like a subfolder marked with a piece-of-paper icon, but it isn't one -- it's just a member library. Now, the alternate view mode is accessible from the Tools menu (when you have the menu bar showing); from the Folder Options dialog box, under Navigation pane, it's called Show all folders. While that expands the number of folders you see in the entire list, it also scoots the Libraries group to make it look like a subfolder of Desktop. That doesn't quite make sense to me yet, but maybe I'll adapt.
Anyway, when you "Save As," in Office 2007 by default, you're still pointed to your default personal documents directory, which in Windows 7 is now called, once again, My Documents (a phrase brought back from the XP days). This is because you need to be able to save files to explicit locations. When you open a file, however, Office 2007 SP2 knows to look at the Documents library first, which makes this aggregation both convenient and smart. Again, how you see the libraries listed in Explorer depends on whether you have Show all folders checked or unchecked.
The existence of libraries in Windows 7 creates another benefit for keeping one's personal documents and media on separate drives or network locations from your operating system: Should you do a clean and fresh install of Win7, as many will choose to do for perfectly good reasons (we've had some talks about this in the Comments section in recent days), it only takes a few moments to re-enroll your media and other files in Win7 libraries, rather than having to restore them from backups.
Next: Catching up with your cell phone's view of media…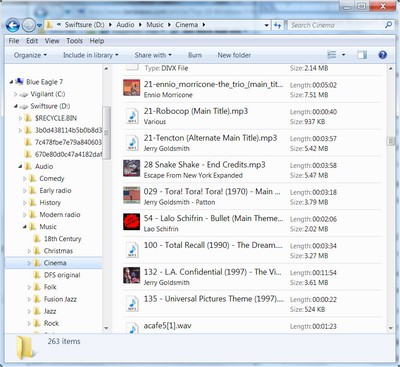 Content View If you're a Windows user, there's a good chance your cell phone has a better and more interesting way of organizing your media files than does your current version of Windows Explorer. Windows 7 addresses this little discrepancy with the addition of a new option called Content View.
For your MP3 file collection, Windows 7 automatically (and this will be a controversial feature for some, I know it) search the Web for album art associated with each file. It will then store album art thumbnails as hidden JPEG files alongside your MP3s in their native directories. That's a lot of album art, quite frankly; and we were surprised to find that Microsoft appears to have gone to great lengths to find even some very obscure album covers, including these from some old movie soundtrack albums from the 33 RPM era.
Seeing media files this way, however, makes more sense than Tiles view when you're hunting down something, especially a piece of music. A lot of us are more visual than verbal when remembering music; when you think of "The Sounds of Silence," for instance, your mind sees two fellows in black turtleneck sweaters in black-and-white. You can't input that as criteria into Windows Search; yet it might escape you that the name of the album you'd be looking for is "Bookends."
Simplified sharing In an optimum home networking situation, you would want to avoid having to organize your media files in folders based on what you want to share and what you don't. Almost like setting up a firewall for a business, you'd rather exclude items from being shared with other family members by default, and then include exceptions to that rule at will. But Windows has never made sharing files easy for everyday folks; right-clicking on files and going to the Security tab and referring to security groups and their permissions, is the sort of thing dads don't want to be doing when they've finally located and downloaded the music files needed for their daughters' recitals next week.
The addition of Homegroup networking has led to the subsequent addition to Windows 7 Explorer of a one-click action Share with. Preferably, its best use is with homegroups (where more than one computer runs Win7), in which case you can take a non-shared directory, choose the files you do want to share, select Share with -> Homegroup, and find them enrolled in everyone's libraries.
In cases where you don't have a homegroup going just yet, it's still simpler: The same logic that Vista used in making sharing printers simpler on a home network, is applied to finding users to share files with. When you choose files and select Share with -> Specific people, you'll get a dialog box that brings up the names of users (security principals) who share this computer or who have been located in the network's workgroup. Now, right at first, there will probably be problems within networks shared by Win7 and Vista computers, where the latter group hasn't upgraded yet. But we do at least see the possibility of this being rectified in the field over time.
For most everyday users, Windows Explorer is their homebase of computer operations -- their administrative console. With Vista, we saw some glimpses of hope as it appeared the company was addressing the topic of how real-world users would expect this program to work. But maybe for the first time ever, we're seeing in Windows 7 Explorer some evidence that Microsoft engineers actually looked to other programs for inspiration.
Download Windows 7 Release Candidate 32-bit from Fileforum now.
Download Windows 7 Release Candidate 64-bit from Fileforum now.
---
FOLLOW THE WINDOWS 7 TOP 10 COUNTDOWN:
Copyright Betanews, Inc. 2009
Things you can do from here: