Has Your Stylist Become Your Therapist?
Sent to you by Rehan via Google Reader: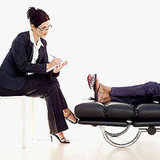 Bartenders, taxi drivers, and hairstylists - all professions with a reputation for being listeners of problems and givers of advice. My friend, who is mostly retired from the hair biz, has been a cosmetologist for nearly 40 years. Over the course of her career, she's heard it all. The classy lady is no snitch, and she would never reveal the personal details of her clientele.
But once, I did overhear a former teacher of mine talking all about her sex life as I buried my head farther and farther into the dryer and waited for my hair to set. How about you? When it comes to the private aspects of your life, do you leave the intimate stuff at home, or do you have no qualms dishing about anything and everything to your stylist? Call it "thairapy," if you will.
Has Your Stylist Become Your Therapist?
Yes
No
Things you can do from here: